Plastic Free July – the types, toxicity and recyclability of plastics.
Some of the most common products we use almost every single day, have a terrible secret. They are laced with a single use plastic, and can't be recycled. Now it is Plastic Free July, everyone has plastic on their mind.
Plastic…. What is plastic? What is plastic made out of? Why is plastic bad? 3 questions I regularly come across from people all the time, which isn't surprising due to plastic's complexity and ability to disguise itself as something else. Currently our global economy produces over 300 million tonnes of plastic waste each year, which is nearly the equivalent to the weight of the entire human population.
Every year 250 million people across the world sign up for the challenge to go without single use plastic for the whole month of July. Sign up to do the challenge here ? Plastic Free July
A brief history of plastic…
Plastic was developed during the industrial revolution and was considered evolutionary material that was going to change the world, and change the world it did. We now rely so heavily on many types of plastics, across every single industry. Looking around me now I see so many items in my home that are made with plastic; my lamp, pen, camera, laptop charger, printer, clothes…. We can't escape plastic!
The term 'plastics' is derived from the word 'polymers' composed of various elements such as carbon, hydrogen, oxygen, nitrogen, chlorine, and sulfur. Plastics typically have high molecular weight, meaning each molecule can have thousands of atoms bound together. The primary chemicals used to create plastics generally come from the unsustainable source of oil, natural gas, or coal.
Current use of plastic in our society
But not all plastics are used for 'bad' reasons, some are very necessary for our human existence, such as plastic's role in medical equipment. Certain high-purity plastics are used in medical devices such as surgical instruments, dental instruments, sterilization trays, endoscopic probes, anesthetic, diagnostic, and imaging equipment, including MRI machines.
Unfortunately, most plastics are not used for 'good' reasons though. A lot of companies mass produce plastic because of its cheap production cost, with the intent of a 'single use'. Plastic wrap, plastic Ziploc bags, plastic shopping bags, takeaway coffee cups, food packaging, plastic cutlery and utensils, are just some of the many, many examples of 'single use plastics'.
Why are plastics bad? Well the first reason is that they don't biodegrade in our natural environment, they just break down into smaller pieces called microplastics over a long period of time. Microplastics are then ingested by wildlife and us humans, which can have a destructive impact on our respiratory and digestive systems. Single use plastics, can be used for a total of 10 minutes, then thrown away to then last 100+ years causing plastic pollution. When we throw plastics away, they either end up buried in landfill, burnt as biowaste, or discarded into our natural environment, which has the worst impact on wildlife. The UN estimates "only 9% of all plastic waste ever produced has been recycled. About 12% has been incinerated, while the rest — 79% — has accumulated in landfills, dumps or the natural environment".
What are the difference types of plastics?
1 – Polyethylene Terephthalate (PET or PETE or Polyester)
Semi hard plastics ?‍♀️ Recyclable
Plastic bottles
This type of plastic contains antimony trioxide—a matter that is considered as a carcinogen—capable of causing cancer in a living tissue. Warm temperatures inside cars, garages, and enclosed storage could also increase the release of the hazardous matter

2 – High-Density Polyethylene (HDPE)
Thick hard plastics.

?‍♀️Semi recyclable at specialty drop off stations:
shampoo bottles
medicine bottle
?‍♂️ Not recyclable:
opaque milk
juice container
The manufacture and disposal process of PVC has been declared as the cause of serious health risks and environmental pollution issues.
4 – Low-Density Polyethylene (LDPE)
Very soft plastics ?‍♀️ Quite difficult to be recycled – you can recycle them at RedCycle at Coles or Woolies
Plastic bags
Plastic wrap
This type of plastic has the simplest plastic polymer chemical structure, making it very easy and very cheap to process. coatings for paper milk cartons and hot & cold beverage cups.
Still using plastic bags to do your grocery shopping? Check out our reusable mesh grocery bags here.
5 – Polypropylene (PP)
Stiff plastics.
Food containers ?‍♀️ Semi recyclable at specialty drop off stations
Menstrual lining ?‍♂️ Not recyclable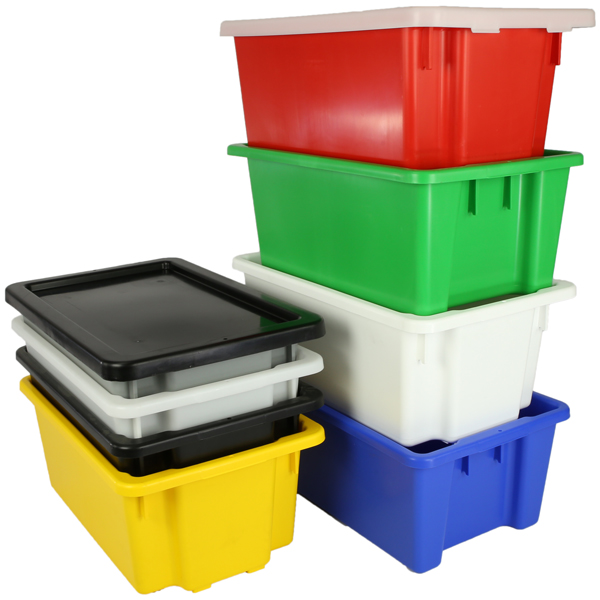 Polyproylene plastics are stiffer and more resistant to heat. PP is also included in the disposable diaper and sanitary pad liners. Excessive contact with PP has been proven to cause asthma and hormone disruption in humans.
6 – Polystyrene (PS)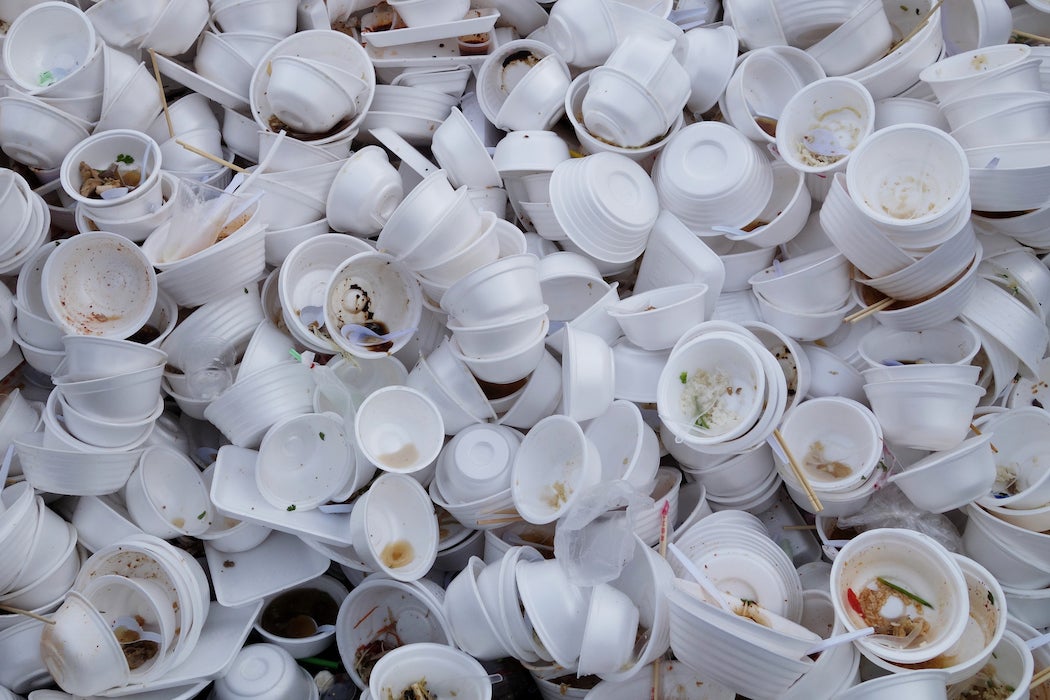 ?‍♂️Can be recycled but very difficult and not many places will take it.
This horrible type of plastic is hopefully on it's way out of the single use category. It is the Styrofoam we all commonly used for food containers, egg cartons, disposable cups and bowls, packaging, and also bike helmet. Many places in the world have already banned Styrofoam food containers. Unfortunately Australia hasn't yet.
When exposed with hot and oily food, PS could leach Styrene, which is considered as brain and nervous system toxicant, it could also affect genes, lungs, liver, and immune system.
7 – Other
Number 7 is for all plastics other than those identified by number 1-6 and also plastics that may be layered or mixed with other types of plastics, such as bioplastics.
?‍♂️Very difficult to recycle
Polycarbonate (PC) is the most common plastic in this category. PC is typically used for baby bottles, sippy cups, water gallon, metal food can liner and sauce container . Due to its toxicity, several countries have banned the use of PC for baby bottles and infant formula packaging. The BPA that contained inside PC have been linked to numerous sexual health problems including chromosome damage in female ovaries, decreased sperm production in males, early onset of puberty, various behavioural changes, altered immune function, sex reversal in frogs, impaired brain and neurological functions, cardiovascular system damage, adult-onset (Type II) diabetes, obesity, resistance to chemotherapy, increased risk of breast cancer, prostate cancer, infertility, and metabolic disorders.
Factors to remember about plastic
? Though it varies between plastic types, every single category of plastic could leach hazardous materials if put in a situation such as high levels of heat. Such as a hot car on summers day.
?‍♀️ 3 types of plastic that are considered as safer options among the others are Polyethylene Terephthalate (PET), High-Density Polyethylene (2-HDPE), and Polypropylene (5-PP).
? Although the experts are currently working on inventing the best method and strategy to recycle all of those types of plastic, the 2 types of plastic that are mostly picked up by the state council recycling programs are Polyethylene Terephthalate (1-PET) and High-Density Polyethylene (2-HDPE).
A better way to deal with plastics
Less is more… If you can go without it, then don't buy it.
Choose items made from either biodegradable or recyclable materials, if they are available.
Stainless steel, wood, copper, cane
Use reusable items instead of single use plastics. Like reusable ziplock bags or reusable stretch lids to replace plastic wrap
Ask your favourite brands what they are doing towards achieving a more sustainable future. You can see this already works by Coles and Woolies offering to recycle all soft plastics though their Redcycle bins.
Lobby your members of parliament towards a Circular Economy of waste. Ask for better solutions for recycling plastics.
This chart by AlansFactoryOutlet.com, helps sum up everything about plastics.

References:
https://plastics.americanchemistry.com/How-Plastics-Are-Made/
https://waste4change.com/7-types-plastic-need-know/
https://www.piedmontplastics.com/markets/medical-equipment
https://www.unenvironment.org/interactive/beat-plastic-pollution/